Photo Publishers' Market
Brighton Photo Fringe and Photoworks are once again collaborating to present a weekend book love-in, hosted by Phoenix Brighton.
Come and browse a stimulating mix of photo books from established imprints, emerging houses and self-publishers and buy direct from the publishers.
Young people from our project Reflections of Us will be running a stand and we'll have a stand for BPF18 exhibitors.
Alongside the market we will run dummy book reviews with willing publishers.
A free programme of book related talks and discussions will be held throughout the weekend including REVOLV Collective, MAP6, Hannah Trolley (Trolley Books) in conversation with Sian Davey and our curators event 'Is Photography Democratic?' with special industry guests.
Stay tuned to our social media and see our a full list of Saturday 20 Oct events here!

Supported by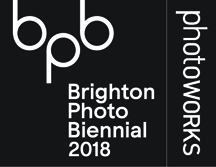 0 BPF18 Collectives' & Youth Hub
Phoenix Brighton
10-14 Waterloo Place
Brighton, BN2 9NB